Recap: Gallons of Gratitude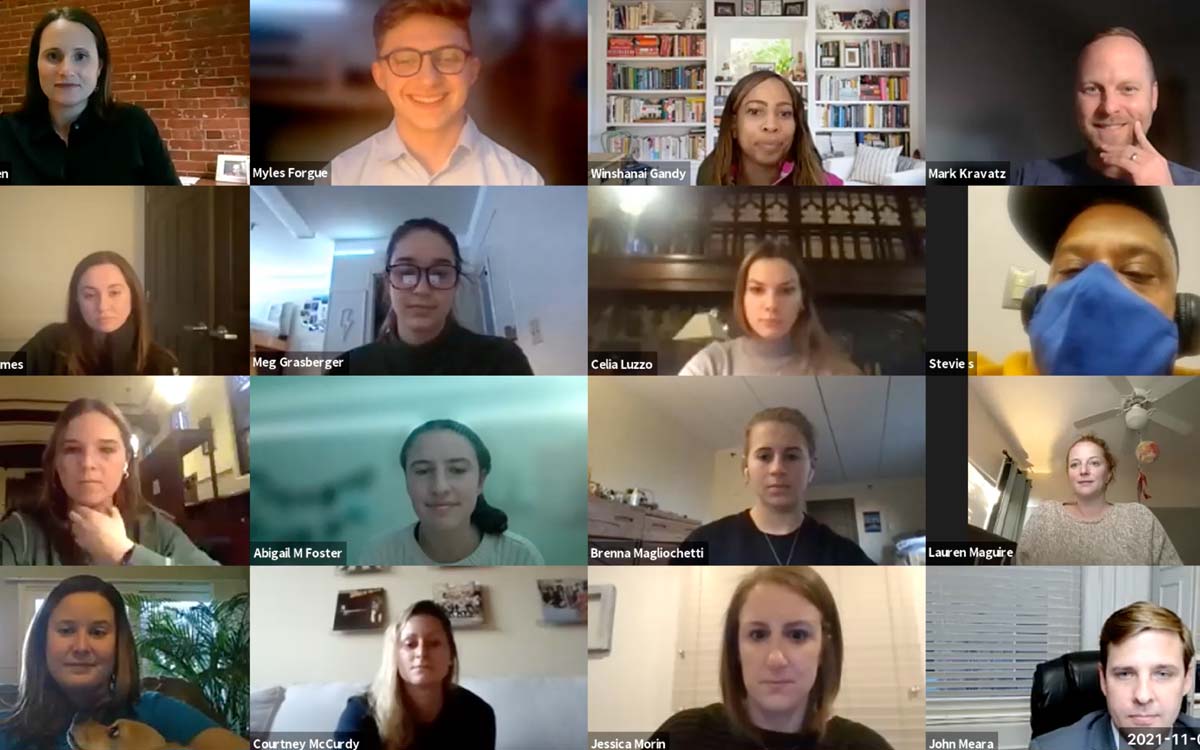 With more than 500 volunteers, 50 interns, 3 collegiate affiliates, and multiple business partners, Habitat PVD has a lot of thanks to give – gallons, in fact. On November 3rd, Habitat PVD celebrated a successful year of revitalization, expansion, and getting multiple families on the path towards homeownership. The event's attendees included John Meara – Board President, and Amanda Heinsen – United Way of Rhode Island and Board Member, Win Gandy – UPS and Board Member, and Mark Kravatz – Executive Director of HabitatPVD.
During the event, participants got to view a collaborative video created by interns Celia Luzzo (PC '24), Angelica Tanzi (PC '24), and Meg Grasberger (PC '24) depicting various members of the HabitatPVD team expressing their gratitude for Habitat for Humanity as an organization as well as the generosity of all those involved in its success. "It has been a blessing for me to be a part of an organization like Habitat," says Habitat PVD Family Support Specialist, Cindy Sanchez. "I am inspired by the way that Habitat cares for and works hard at its mission toward building decent and affordable homes with families and for families of Providence Rhode Island." This year Sanchez has led the family selection process, resulting in the beginning of the homeownership process for three Providence families. Cindy is moved by the smiles and visible excitement of these families who are building with volunteers towards their future home.
Throughout the program, Habitat intern and Providence College Chapter President, Myles Forgue (PC '24) facilitated many polls asking participants questions such as why they volunteer for Habitat. Unsurprisingly, helping families was the top answer to this poll. Volunteers have helped resilient mothers and community members such as Selamnesh Area and Ingrid Mejia obtain stable and affordable housing for themselves and their children. Mejia expressed her thanks for volunteers and recognized the importance of charity, "It is amazing when you have volunteers help to build your house and also for you to help another build their house." To Ingrid, the Habitat volunteer base creates a reliable and generous community where even those facing difficulty are willing to lend a helping hand. It is amazing to see the Habitat family cooperate and grow on the build sites and even online through events such as Gallons of Gratitude and social media interaction.
Wednesday's event ended with a Q&A with Executive Director Mark Kravatz. During this portion of the night, Kravatz spotlighted Habitat's other programs aside from Homeownership such as Aging in Place and Home Improvement. These two programs are expected to see expansions in the future in order to provide greater equity for the elderly, disabled, veterans, and victims of a disaster.
HabitatPVD will also be progressing towards filling in the gaps of the workforce and politics. Through a new contracting incubation program, Habitat will be aiming to train individuals to become certified in their chosen fields of construction. This program will support individual wealth as well as the overall contracting industry in Rhode Island. Additionally, Habitat will use its platform to address the underlying systemic issues which have resulted in income and housing inequality. The affiliate will be presenting a new slate of issues for Habitat International's federal work with the conception of its Advocacy Committee. Overall, Habitat is making strides towards becoming not only a non-profit organization circulated around building homes, but also the center of fostering intergenerational wealth for marginalized communities through long-term maintenance of homes as well as workforce training and pushing for equitable legislation in the local and state government.
After looking at this past year, it is clear that Habitat for Humanity of Greater Providence is expanding its work – and is showing no signs of slowing down. New programs are being developed, the HabitatPVD platform is growing, and most importantly, more and more families will be able to call their house "home." All of this work would not be possible without our amazing donors, interns, volunteers, board members, staff, and business partners. You all play a major role in securing the futures of these strong families, and because of that, we are proud to give you gallons of gratitude.