Homeownership Program
Thank you for your interest in obtaining a Habitat for Humanity home. Since 1987, we have helped many Rhode Island individuals and families achieve strength, stability, and self-reliance through shelter. If you or someone you know finds themselves facing barriers to opportunity due to inadequate living conditions, we may be able to help.
No matter who you are or where you come from, everyone deserves a decent place to live. People in Habitat's Homeownership Program partner with us to build brighter futures for themselves and their families. We work with individuals who might not otherwise qualify for a traditional mortgage.
If you find yourself asking how you too can become a Habitat homeowner, please review the qualifications below.
Program Requirements
1. In Need of Better Housing
Potential homebuyers might be dealing with poorly built, unhealthy, damaged, or inadequate housing. Alternatively, you might have a rent or mortgage that you cannot afford or may be living in a home that is inaccessible because of certain disabilities.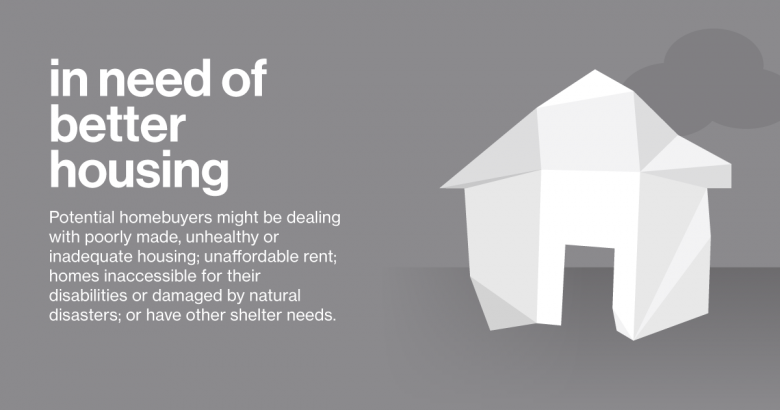 2. Willing to Partner with Habitat
Our homebuyers put in hundreds of hours of "sweat equity," which means they help build their own home and the homes of others in the Habitat for Humanity house-building program. This may also include classes in personal finances, home maintenance and other relevant topics to help ensure capability for the demands of owning a home.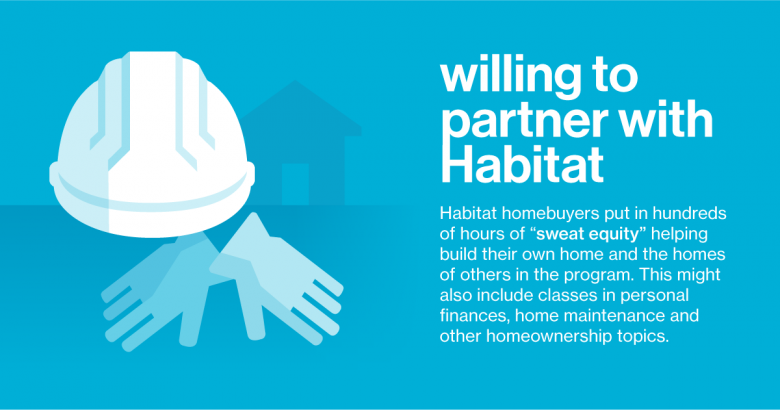 3. Able to Pay an Affordable Mortgage
Habitat offers homebuyers an affordable mortgage. Those payments are then cycled back into the community to help build more affordable homes.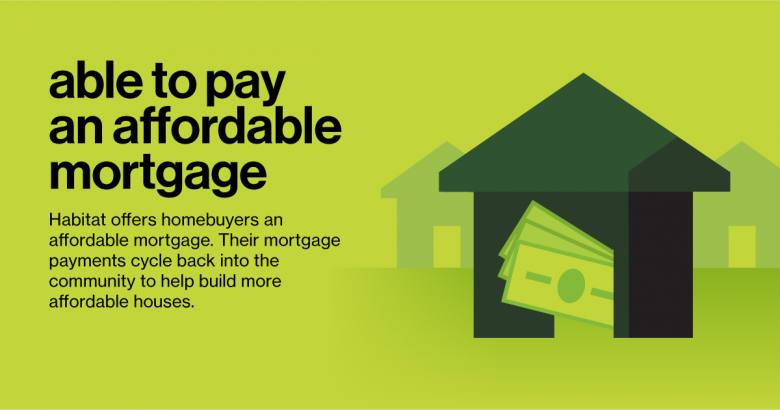 Income Eligibility Requirements
Household income requirements are based on 30 (minimum) to 60 (maximum) percent of the 2021 U.S. Housing & Urban Development's (HUD) Area Median Income (AMI).
| Household Size | Minimum Yearly Household Income | Maximum Yearly Household Income |
| --- | --- | --- |
| 1 | $25,000 | $36,360 |
| 2 | $25,000 | $41,520 |
| 3 | $25,000 | $46,740 |
| 4 | $26,500 | $51,900 |
| 5 | $31,040 | $56,100 |
| 6 | $35,580 | $60,240 |
| 7 | $40,120 | $64,380 |
| 8 | $44,660 | $68,520 |
Household
Size
Minimum
Yearly
Household
Income
Maximum
Yearly
Household
Income
1
$25,000
$36,360
2
$25,000
$41,520
3
$25,000
$46,740
4
$26,500
$51,900
5
$31,040
$56,100
6
$35,580
$60,240
7
$40,120
$64,380
8
$44,660
$68,520
Application Process
Attend an Information Session
If you are interested in applying for Habitat for Humanity of Greater Providence's Homeownership Program, the first step is to attend an information session.
During the information session, you will hear from our team and current Habitat homeowners on program requirements and expectations. At the end of the information session, you will receive an application that can be submitted during an open application period.
Submit Application
If the program is a good fit for you, fill out an application. This is a thorough application that requires you to submit many different kinds of documents, such as your employment history, tax returns, and more.
Application Review
The end goal of our Homeownership Program is for you to purchase your Habitat home with a thirty-year, affordable mortgage. We want you to be successful as a homeowner, so we run a credit check to make sure your finances are healthy.
Home Visit
Habitat staff visits your current home to better assess your need for housing, and to talk through the program requirements again. This is a chance for us to get to know you, your needs, and your willingness to partner through this program. This is also a chance for you to ask any outstanding questions you have.
Committee Review
A committee of staff, board members, Habitat homeowners, and volunteers conducts a blind review of all applicants to determine who is accepted into the program. The Board of Directors has final approval and votes in applicants.
Decision
If you are accepted, congratulations! We are thrilled to be a partner in your journey to homeownership.
If you are not accepted, there are specific ways you can strengthen your application, should you choose to apply again in the next application period. If you need credit repair, we can refer you to the partners we work with to help you get your finances for the next time.
Orientation
Accepted families attend a kickoff orientation, which includes a thorough review of program documentation as well as training with our construction team to prepare for work on site.
Request Homeownership Application
If you have an issues submitting your information through the form above, please email [email protected] with the required information.
Homeownership Program FAQ's
If I'm accepted into the program, how long before I purchase my home?
habitatprovidence
2020-05-26T14:03:50+00:00
The typical time for a family to complete the program is within 18-24 months, after which the purchase process begins. This timing depends on a variety of factors, including how long it takes a family to complete sweat equity requirements, Habitat's construction schedule, and other considerations.
What kind of support will I receive throughout the program?
habitatprovidence
2021-03-25T12:40:51+00:00
Our team is here to help keep you on track! We understand there may be bumps in the road, and we will work with you as a partner in your success.
Each individual or family in the Homeownership Program may be paired with a Family Advocate, a volunteer, or Habitat homeowner who stays in touch with you throughout the program and supports your needs. They can even contribute sweat equity hours!
Habitat has partnered with multiple organizations based in the Greater Providence area to provide financial and crisis support throughout and beyond the application process
I'd like to speak to someone about the program. Who can I talk to?
habitatprovidence
2020-05-26T14:04:23+00:00
You can reach us at (401) 831-5424 or by emailing (insert new email address)