Reflections: A Year In Review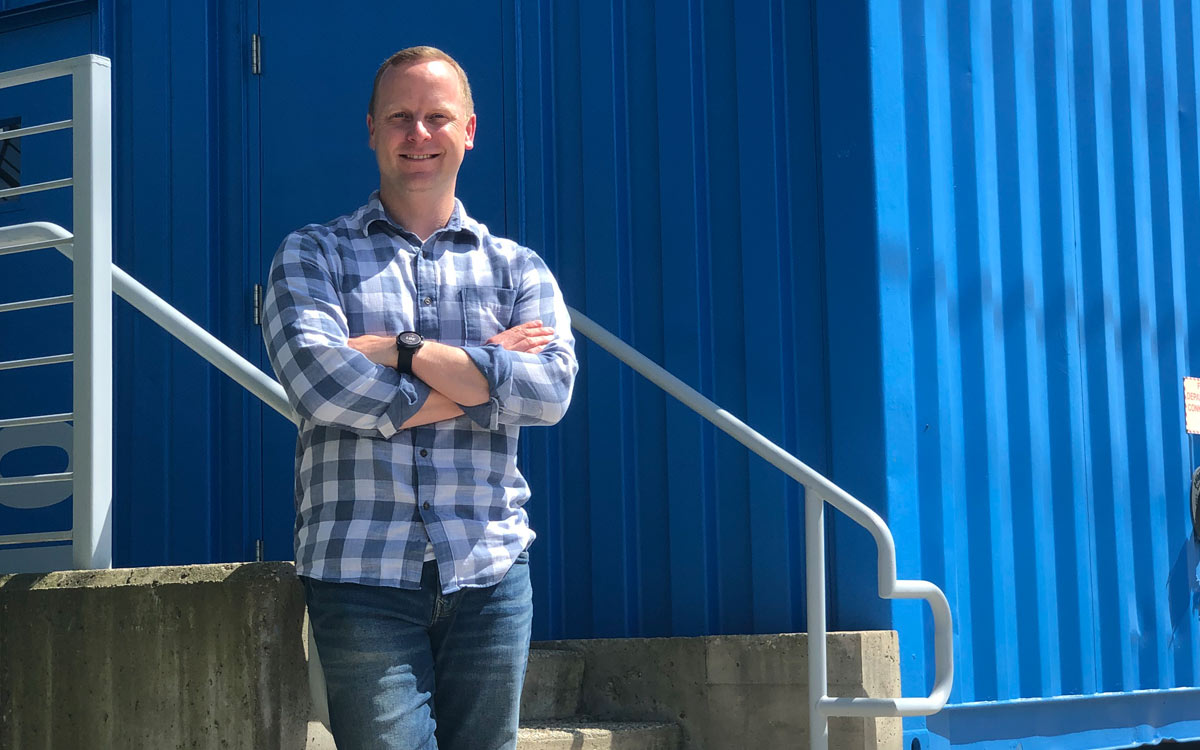 May 21st marked my first year as Executive Director of Habitat for Humanity of Greater Providence. The anniversary has created an opportunity to pause and reflect on the year. To say that FY 2020-21 was a unique year is a huge understatement. Like all non-profit organizations, the pandemic had a serious impact on our ability to serve its community directly. In our case, this meant not being able to partner with families and volunteers to build and repair homes. Though it was, at times, tempting to sulk and get frustrated, we proactively decided to create some silver linings.
From the depths of our home basements, we focused our energy on three main objectives. The first objective was to assess and rebuild/repair the organization's core operational systems (e.g., accounting, board governance, volunteer management, donor management, information technology, etc.). In any organization, it's easy to want to focus a majority of your energy on delivering programs. For many of us in the non-profit sector, it's the direct program work with the community, volunteers, and clients that is the most rewarding and so it's easy to feel tempted to spend all one's time on that and less time on the back-end administrative side of the business. COVID removed that temptation. Our major systems received a full analysis and, more often than not, received a complete overhaul. We rebuilt our file management structure, switched over to Google Workspace, purchased and set up new volunteer and donor management systems. With the leadership of our Governance Committee, reset our bylaws and ensured good standing with Habitat International. We also reconfigured our bookkeeping system, updated our insurance coverage, set up a new office, and took action to restructure our mortgage assets. And last, we updated all forms, processes, and policy requirements for our homeownership and home repair programs. By taking the time and effort to improve or rebuild these core systems, I feel more confident than ever that the organization in a strong position to begin scaling its efforts in FY 2021-22.
Figure 1: HabitatPVD Operations Map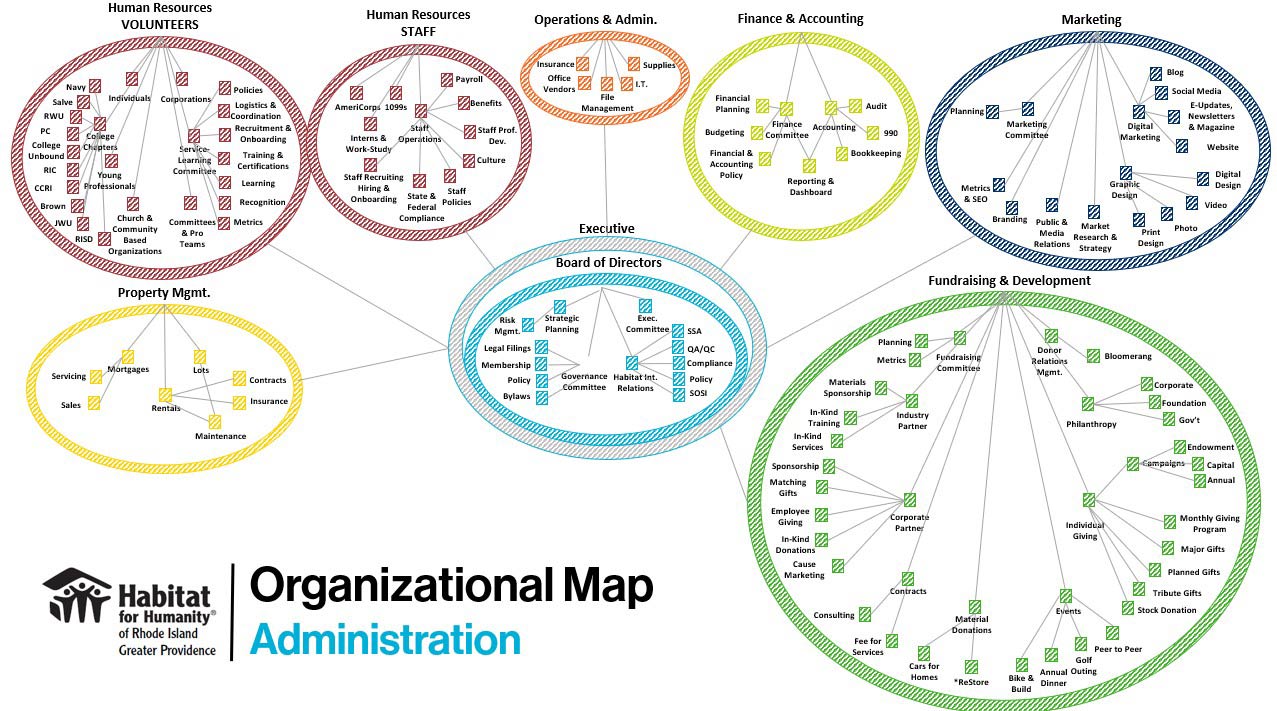 The second objective was to diversify program offerings. Though Habitat for Humanity is best known for developing and building new affordable homes, the organization's mission also supports other programs such as home improvements, disaster response/recovery, advocacy, and neighborhood-level revitalization. By diversifying our efforts, the organization has been able to more comprehensively respond to important community needs. Similar to our core operational systems, the new construction program received a comprehensive analysis and overhaul. With the leadership of our Family Services Committee, the program received a makeover which included fully updating the application and intake process. We also partnered with the construction management program at Roger Williams University to secure four interns to help us establish our construction management systems. This partnership included procuring a new construction management software called ProCore and getting the system in place to manage all of our new construction and home improvement work. Last, with the support of a key volunteer member, Paul Chappell, we cleaned out our entire tools/supplies storage system, and we are conducting a full inventory review. We are halfway through our current new construction project, and we anticipate breaking ground on two new properties in September.
Figure 2: HabitatPVD Homeownership Pathway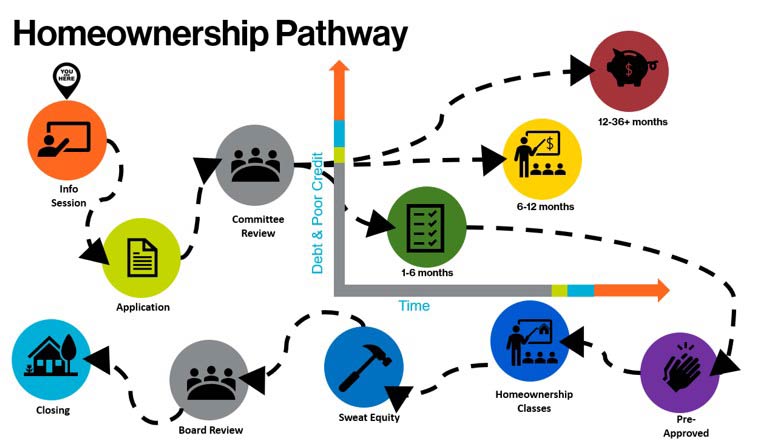 We also established a new home improvement program. Based on the number of calls we receive daily, it was clear to us that many lower-income Rhode Island families are hurting and not in a financial position to make critical home repairs/improvements. HabitatPVD has stepped up, and we're providing leadership in this space to serve families. Our initial focus has been partnering with Blue Cross Blue Shield of Rhode Island to create an Aging-In-Place home modification program. This program allows HabitatPVD to partner with older adults to complete a comprehensive health, safety, and energy efficiency assessment of their home and receive critical repairs and home modifications that will allow those individuals to age more safely and securely in their own home. We have brought on new experienced staff members to get this program up and off the ground and to diversify into other areas of need, such as home improvement programs for individuals with disabilities, veterans, and even disaster response/recovery. Last, we are working on partnerships with other low-income home improvement programs to ensure that all HabitatPVD applicants can participate in those programs.
Figure 3: HabitatPVD Home Improvement Core Service Areas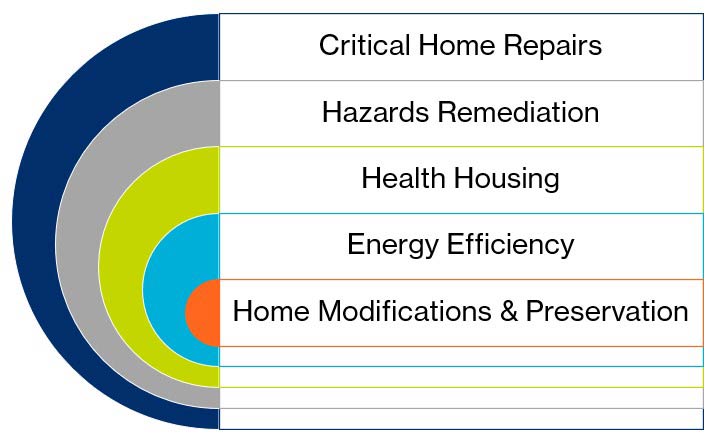 The organization also started laying the groundwork to begin offering training and education. HabitatPVD knows first-hand what goes into building and repairing homes. As a result, we have a lot of knowledge and experience to share with the community, including volunteers, homeowners, and individuals seeking employment in the field of home construction and home performance. More so, Habitat's volunteer model creates the perfect structure to offer hands-on learning experiences. This past year, we focused on developing a foundation that will allow us to scale up our training and education efforts in the FY 2021-22 year. A key accomplishment was becoming a Building Performance Institute Testing Center. We are also establishing key partnerships that create hands-on learning that perfectly complements the efforts of organizations delivering classroom-based construction training.
The third core objective of the past year focused on building human capacity for the organization. We have been overwhelmed with the outpouring of interest to get involved with Habitat for Humanity, even amid a global pandemic. Today, we have 263 registered individuals who signed up in the past 12 months to volunteer on the construction site with HabitatPVD. Did I mention that they signed up amid a pandemic?! More so, many companies and organizations are beginning to reach out to get involved with HabitatPVD. So we focused on creating a structure to support this type of collaboration. Sponsorship is critical in helping fulfill our mission and allows the business community access to being an integral part of the Habitat process and solution. Through our corporate sponsorship program, not only does the company feel the satisfaction of assisting a non-profit, but they also experience a fulfilling team-building experience and receive key perks like tax write-offs and brand marketing. As exciting as these efforts are, I'm most proud of what we accomplished with building capacity to support our operations and programmatic efforts. Currently, more than 90 professionals and interns are actively volunteering their time to build this organization. Areas of support include marketing, fundraising, construction management, family services, volunteer management, buildings, and developing a Habitat ReStore. Our volunteers are selfless, and it is through them, new life is being breathed into the organization. Not to mention, it is through the engagement of these volunteers that keep me personally motivated and inspired.
Figure 4: HabitatPVD Corporate Sponsorship Menu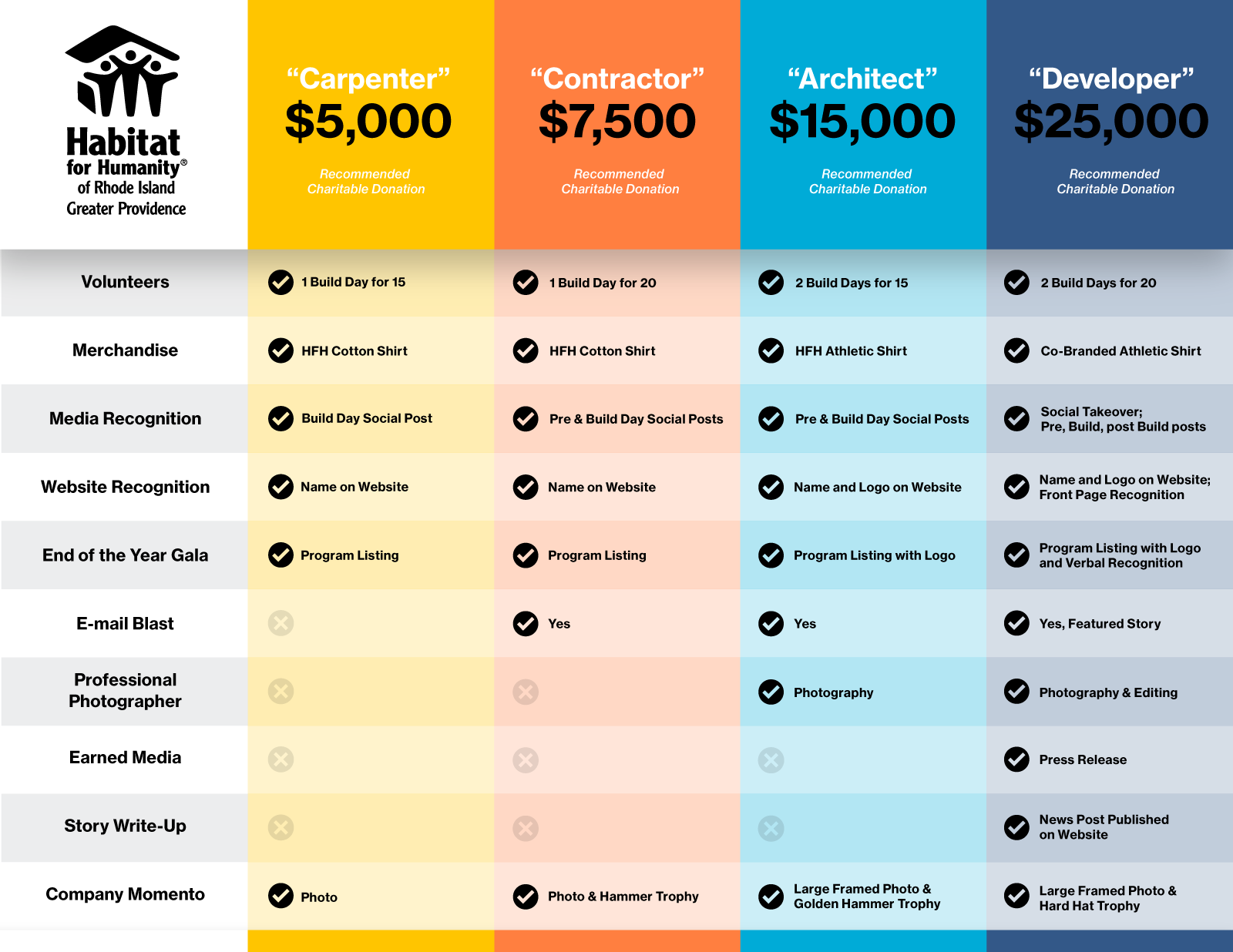 The FY2020-21 year certainly had its challenges, but I am proud to say that HabitatPVD has a lot of wind in its sail going into the next year. Again, this could not have been possible without the dozens of others who continue to give themselves selflessly to build out this organization and build strength, stability, and self-reliance for many people in our community. Thank you! Next month, I look forward to giving you a preview of what's coming up in the next year. Until then, stay safe, and wishing you and yours many blessings.
For more information or questions, please do not hesitate to contact Mark at [email protected].